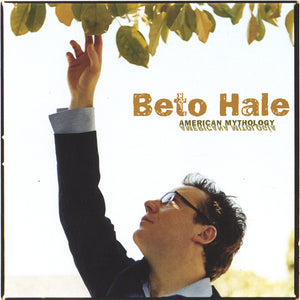 Beto Hale's Official Merchandise Store
American Mythology - CD
Regular price
$10.00
$0.00
Beto's second release, a 19-song extravaganza which received incredible reviews.
Credits.
Released 2006
Lalo Records
PS.
Beto Hale was born in Mexico City. After graduating with honors from Berklee College of Music in Boston, Beto moved to Manhattan where he joined pop/punk act The Cogs, recording the albums Viva! And Open Kimono, and performing at such legendary venues as CBGB'S, cradle of the Punk movement.
In 1998, Beto became Editor-in-Chief of Músico Pro in Boulder (www.musicopro.com), which reaches more than 50,000 Spanish-speaking musicians worldwide.
His first album, Sube, features Peter Gabriel's bass player, Tony Levin. American Mythology, his new release, features songs that span the gamut from introspective ballads ("If I", "Forever"), to high-energy rockers ("En Tus Labios", "Answers"), and also include political themed anthems such as "Save Us" and "Un Día Más." Hale was responsible not only for the composition and lyrics; he arranged and produced all 19 tracks and played drums, piano, guitar and percussion, in addition to handling lead vocals.
The CD has received very positive press and radio coverage from publications as diverse as Marquee Magazine in Boulder, New York's Relix, All Music Guide and CNN Radio!
---
More from this collection