El 26 de mayo salió en todas las plataformas digitales el nuevo álbum Kairos de Auxi Belmonte, una excepcional soprano de Córdoba, España. Produje el álbum en mi estudio, Los Olivos, en Los Ángeles.  Pueden escucharlo aquí.  
---
Durante el verano y el otoño de 2020, en plena pandemia, tuve el placer de producir un EP para la talentosísima cantante y compositora mexicano-estadunidense Nancy Sánchez. Sal Ojeda estuvo a cargo de la mezcla y de algunos de los arreglos y programación.  Aquí puedes escuchar los temas y ver los vídeos:  
---
"MUJER DE PLATA", EL REGRESO DE BETO HALE
---
Nothing like recording with talented artists! Stay tunes for Nancy's upcoming releases, produced by me! Here I am at Los Olivos with Nancy and her manager, Mark Torres.
---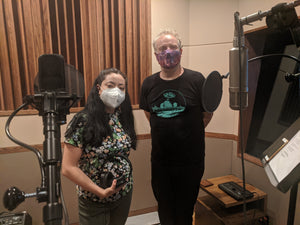 Acabo de terminar la producción de un poderoso tema para esta cantautora mexicano-estadunidense. Se grabó por completo en mi estudio